What is Ramadan?
Is the ninth month of Islamic loner year and holy month of fasting. It starts and ends with the appearance of crescent moon. Ramadan is month of fasting, praying, reflection, community and giving. The holy month of Ramadan last for 29 or 30 days, depending on moon sighting that ends with the celebration of Eid AlFiter.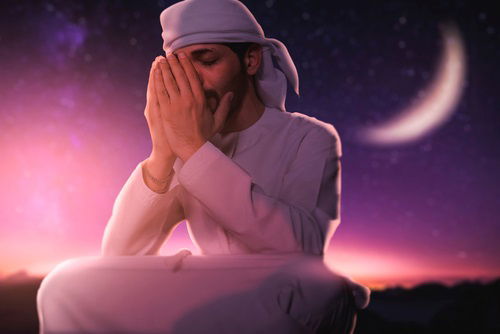 Muslims fast by stop eating, drinking and smoking from sunrise to sunset and practice controlling of desires and bad habits in order to find cleansing body, mind and soul and learn how to get of grudges, arrogance and other low traits. Muslims weak up before the sunrise to pray and eat a small meal named (suhoor) before Fajer or early morning prayer when the fasting start and ends at the sunset with Iftar or breaking the fast with family, friends.
What to expect during Ramadan?
Working hours change during Ramadan, for Public sector work adhere to 09:00am to 02:30pm from Monday to Thursday, Friday timings from 9:00 AM to 12:00 PM - or three hours. The Friday (Jumah) prayers will begin at 01:15 pm, so all public sector employees will have enough time to get ready and attend the congregational prayers.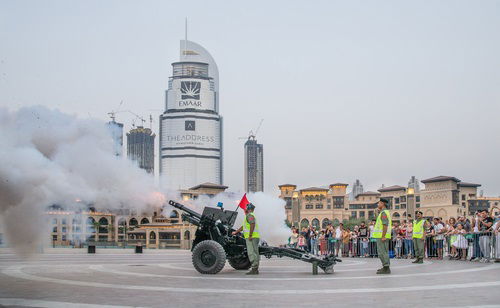 In the evening before the breaking of the fast(Iftar) when the sun set, you can hear the cannons go off around Dubai to announce the end of the fasting day and the beginning of Iftar. You can go and watch the firing of cannons in these location.
Iftar in Dubai, indulge yourself in Iftar meal which are hosted by most hotels and restaurants. From all you can eat buffets and set menus offering traditional Arabic dishes and other cuisines in a very unique ambiance. For traditional Iftar experience at Sheik Mohammed bin Reshid Al Maktoom Center for Cultural Understanding Or for International experience, you can choose from one of these Iftar tents across Dubai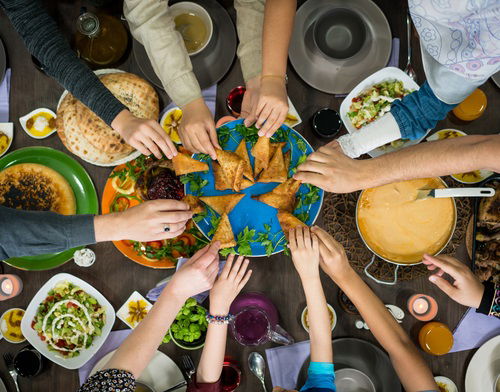 Ramadan is time for Family and giving, this month is very important time for Muslims and locals to meet for Iftar. As part of old tradition invitations are exchanges for Ifter by families, friends, colleagues. Neighbors exchange or share Iftar dishes daily. Ramadan is time of giving it is very common to find people participate in charitable community led initiatives across the city, people contribute with their time, effort and money.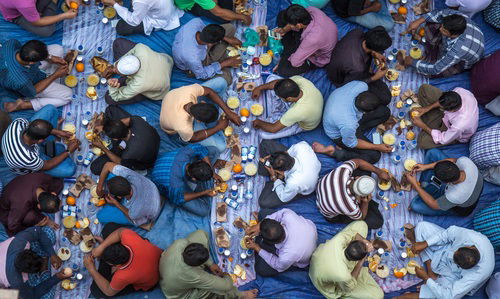 Around the city you will find traditional Iftar tents are set up and lavish buffets feasts are on offer for everyone, regardless for Muslims or non-Muslims during Ramadan. You can experience this tents in each community, mosques.
The night life during Ramadan is different than anytime of the year, as Ramadan is a quite month in term of parties, ladies' nights and nightclubs but the nightlife mood is different kind of nightlife. After the sunset or Iftar, you will find people wandering the night markets, drinking tea, shopping, many shopping malls extend working hours into later than midnight.
Ramadan Etiquettes
Greet Muslims with (Ramadan Kareem or Ramadan Mubarak!) Dress modestly out of respect of the culture and the holy month of Ramadan.
Don't use foul language and don't show affection in public.
keep your volume in check as loud music is not allowed in public during the holy month, listen to music using headphones.
Be patient and kind towards others - it's supportive of those fasting and is received very well.
Eid AlFitter
The end of month of Ramadan after 29day or 30days, depending on moon sighting marked by the Eid AlFiter. Muslims celebration Eid with families and friend, it is all about getting toghater and enjoy great moments. Eid in Dubai is a different experience, the city lights up with fireworks, many activates, cultural performance for 3days.